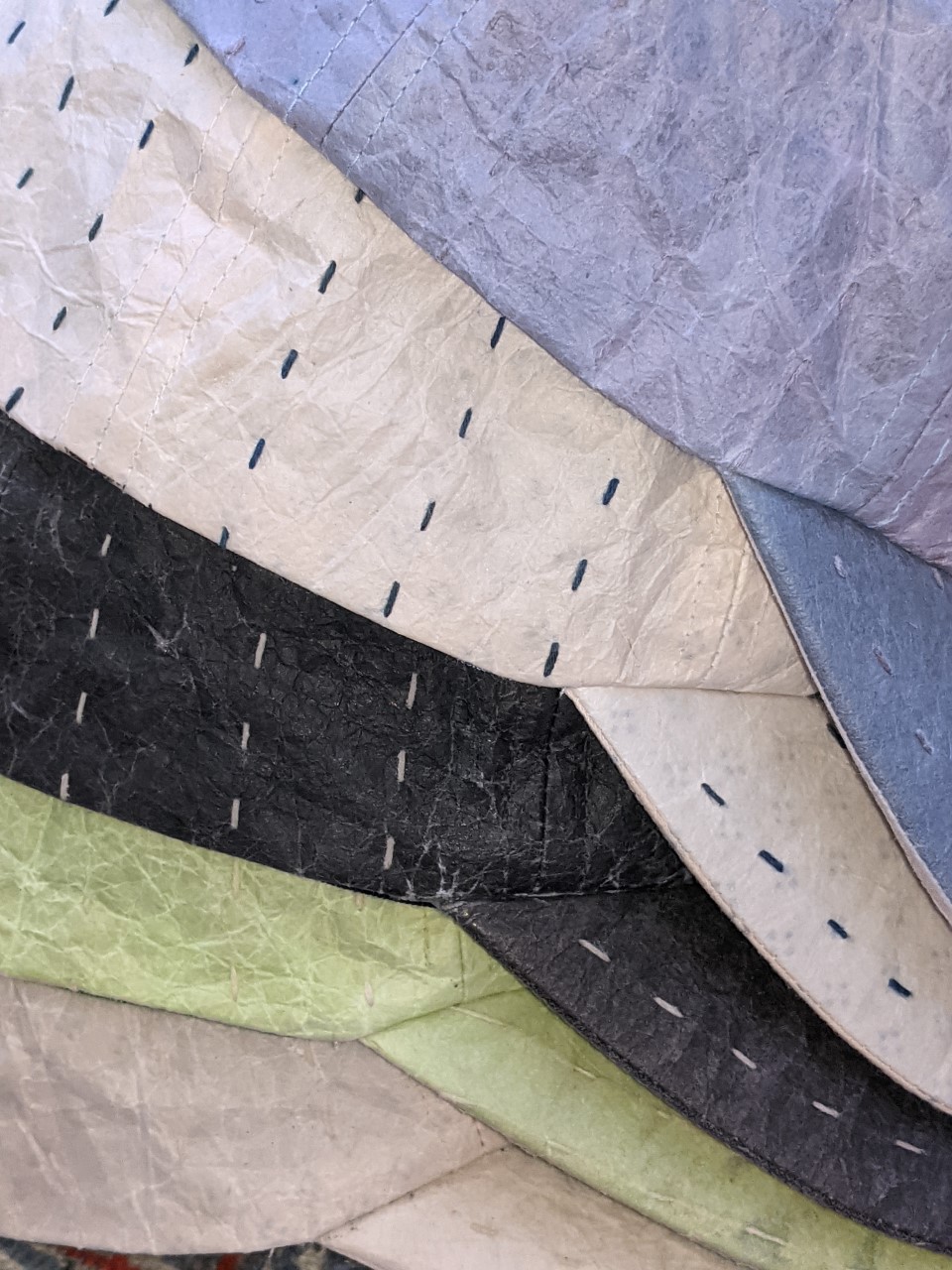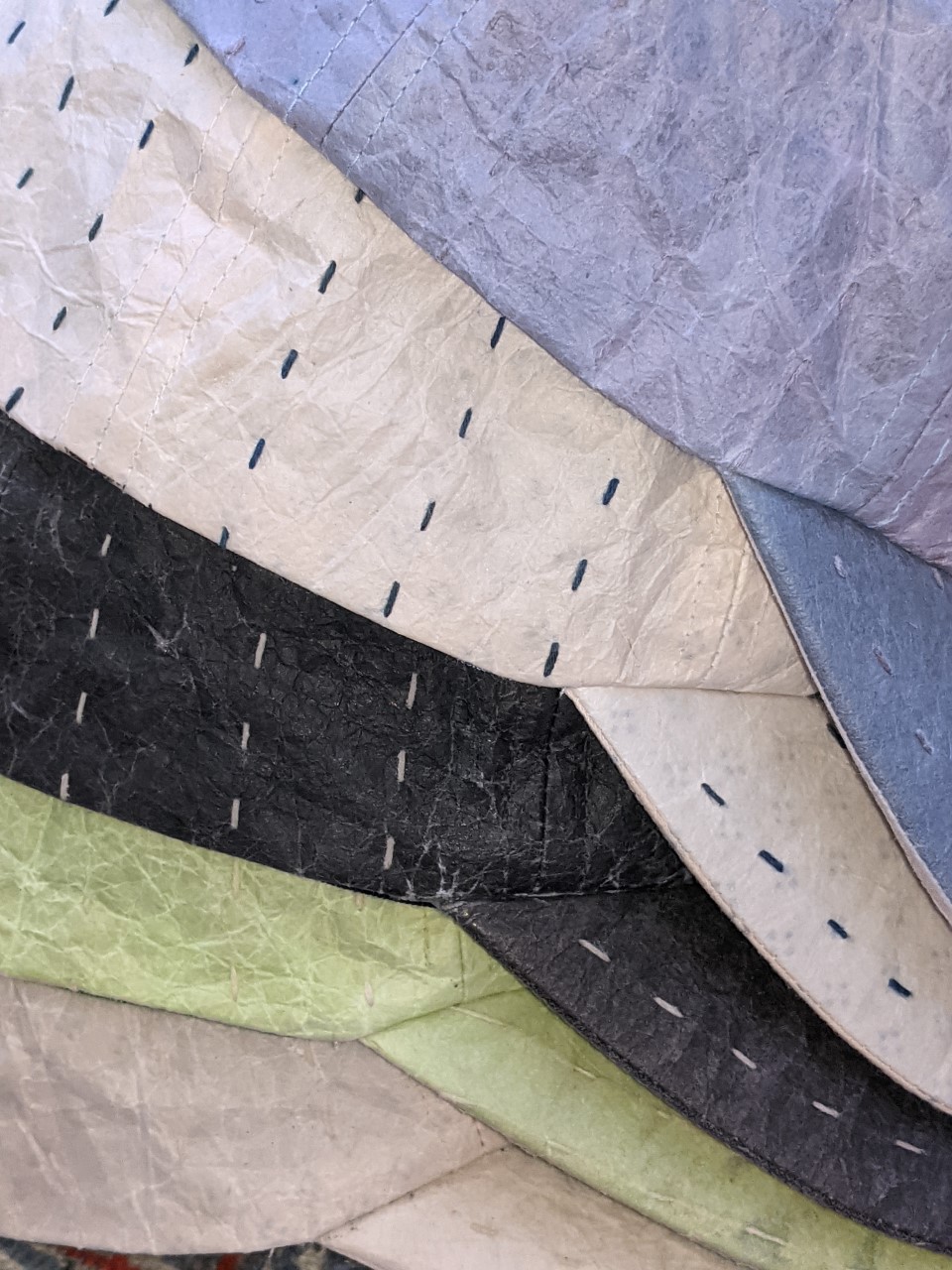 Paper is for drawing, wrapping, wiping, absorbing, sketching, crumpling, covering, tearing, soaking up, writing, throwing away.


But paper can be a beautiful and radical material for clothing;
in longstanding cultural histories throughout Asia and the West and
as a tool to critique the disposability of fashion.
This practice explores all the things that paper can offer as a material for design at the intersections of history, aesthetics, and function.

DNJ PAPER is a collaborative research project and micro-label situated in Melbourne, Australia, and is led by designers Daphne Mohajer va Pesaran and Jake Nakashima-Edwards. The project employs a range of techniques, both traditional and nontraditional, to create paper clothing, accessories, and objects. Its creations aim to address pressing social, aesthetic, and conceptual questions related to fashion and textiles design.

We use handmade recycled rag paper, produced in our studio, as well as handmade Japanese paper, also known as washi. The washi is sourced from small studios located throughout Japan, and each sheet comes with comprehensive information on the conditions of its production.

Our pieces are considered a work in progress, never fully "finished," and are designed to evolve over time. The intention is to allow for wear, repair, and decay, resulting in pieces that are truly unique and reflect the values of the project.

Wherever possible, we reduce, reuse, regenerate, and recycle.
To buy a DNJ piece, please have a look at our shop, or visit one of our stockists.

Melbourne, Australia
Craft Victoria
The Social Studio

Adeliade, Australia
a flat shop

Contact





Daphne Mohajer va Pesaran (PhD)

website: www.d-mvp.com

email: daphne.mohajer.va.pesaran@rmit.edu.au

social: @daphne_mvp & @_paper_clothes_

Designer, lecturer. I am the Program Manager of the Bachelor of Textiles (Design) and lecture in fashion and textiles design and research in The School of Fashion and Textiles at RMIT University in Melbourne, Australia. I spent ten years living and working in Tokyo, where I learned about many traditional crafts practices. I like collaborating and am interested in what materials and relationships can emerge in communities of human and nonhuman people. In my research and design practice I work with handmade Japanese paper and garments/products made from paper. I also work in storytelling and documentation in various formats including film, drawing, text, audio, etc. and am currently undertaking research fellowships for the British Museum and the Australian Museum to research the use of paper for clothing in Japan and the Pacific Islands.

Jake Nakashima-Edwards

email: jake.naka@gmail.com

social: @smiling.at.dogs

Designer, sessional lecturer (RMIT University). I am a graduate of the Fashion Design program at RMIT University, based in Naarm (Melbourne), Australia. I am interested in how fashion intersects with politics, capital, and the environment. My current practice is centred around washi paper as a textile, and the connections this material has with people, culture, and nature. Everything we sell is designed and made in our studio in Naarm (colonial name Melbourne, Australia). We acknowldege that the land on which we work and learn was never ceded from it's traditional custodians, the people of the Woi wurrung and Boon wurrung language groups of the Eastern Kulin Nations.






2023

SPECIAL PROJECT TBA

EXHIBITION TBA

AWARD TBA

COLLABORATION DNJ Paper x Articles of Clothing ︎︎︎ Phone Pouch

WORKSHOP Making Paper Cloth ︎︎︎ Craft Victoria x Melbourne Fashion Festival, Cultural Program


EXHIBITION

NO THINGS

︎︎︎ _matters x Melbourne Design Week





EXHIBITION

Vessel, Cloth & Cloak ︎︎︎ Australian Tapestry Workshop x Melbourne Design Week



EXHIBITION

Vessels ︎︎︎ Craft Victoria


2022


AWARD Creative Victoria Creators Fund Grantee

RESIDENCY Makers-in-Residence ︎︎︎ Craft Contemporary x Craft Victoria

WORKSHOP Making Paper Cloth ︎︎︎ Craft Contemporary x Craft Victoria


2021


WORKSHOP Stationary/Stationery: A Paper Clothes Making Workshop" ︎︎︎ Mpavilion (With artist Beatrice Wharldall)



SYMPOSIUM

"Against Durability: A Wardrobe Made of Paper" ︎︎︎ IFFTI Conference



AWARD

Finalist, Fashion Design Category

︎︎︎

Victorian Premier Design Awards



RESIDENCY

Artisans-in-residence

︎︎︎

STHBNK by Beulah




2020




EXHIBITION "Coat of Theseus" ︎︎︎ Future Prototyping Exhibition



SYMPOSIUM

"Kamiko Bomber"

︎︎︎

Contemporary Fashion Practices